On 6th July 2005, I was in Trafalgar Square with my daughter to hear the jubilant news that London had been awarded the 2012 Olympic and Paralympic Games. I knew at that very moment that I wanted to be part of this huge festival of sport, drawing people from all over the world to my home town.
As I lived just four miles away from the Olympic Stadium in Stratford I knew I would relish the chance to be involved. I would ignore the cynics who claimed the UK wasn't ready to host such a monumental event.
I got selected!
I applied to be one of 70,000 Gamesmakers. My skillset included an additional language (Turkish) and a clean driving licence, and I hoped this would help me get through the selection process. To hedge my bets, I also applied to be a London Ambassador – they helped Olympic tourists throughout the capital — which is what my daughter Canan did.
I was thrilled to learn I got through from the 270,000 people who applied and that I was to be assigned to the Athletes' Village to assist Azerbaijan for the Olympics (they speak a similar Turkish to mine, as well as Russian) and to the Turkish team for the Paralympics in September 2012. There followed a course of training where I met other Gamemakers and we quickly formed a bond.
Hi-fives for the opening ceremony
When the opening ceremony took place on 27th July 2012, I was one of the Gamesmakers who escorted the Azeri athletes from the Olympic Village along the mile long route to the Stadium. The route was lined by thousands of schoolkids who chanted, cheered and hi-fived the delighted athletes along the way. It was truly a wonderful, joyous atmosphere.
The following days involved me and my colleagues running errands from our Azeri guests and driving them to various locations in one of the branded Olympic BMW cars. I remember having to go to a local retail park in one of the cars, wearing my distinctive uniform, and a family coming up to have a photo with me and the car. We felt like celebrities and I was pleased to say we got lovely reactions from the public whenever we were out and about.
Mo Farah on Super Saturday was "Simply amazing!"
One of my most enduring memories is being at a reception held for the Azeri athletes by the Azerbaijan ambassador in Knightsbridge. There was a huge TV screen up showing live footage from the Games. It was Super Saturday, that amazing day when Team GB won three athletics gold medals in the space of 26 minutes. One of those gold medals was claimed by Mo Farah in a sensational 10,000 metres final. I watched with one of the Azeri long distance runners, who was transfixed with Mo's race and gasped in awe saying "He is simply amazing". I had to concur.
Another memory was driving one of the cyclists out towards Epping Forest so she could practise her road race. I dropped her off about 10 miles from the town of Epping itself, with her trainer getting the bike off the roof rack of the car. The cyclist sped off while the trainer had a sneaky cigarette. When he got in the car, he looked at me and said simply in a heavy Russian accent, "Go". So I began driving after the athlete. It took us ten minutes to catch her up.
There were one or two difficult times too, mainly with the army having to be drafted in when G4S security clearly couldn't cope. The army lads who did security checks on the vehicles as we drove in and out of the Village were so courteous and did such a good job. I also got a ticking off when I ended up in the wrong high-rise car park by mistake. I eventually managed to find where I was supposed to be.
"You do all this for nothing? Why?"
As the Games wore on and Team GB continued to excel at winning gold medals, my daily commute for my shift on the Tube was delightful, with people stopping to chat and thanking me for my part in the whole amazing event.
Towards the end of the Games, one of the Azeri Olympic team staff asked how much we were being paid to be Gamesmakers. I looked at him and proudly replied that Gamesmakers were all volunteers and we didn't get paid. He was so surprised and said "You do all this for nothing? Why?" I replied by saying that it was our privilege to host the world, in our capital city and the incredible experiences and memories we were making.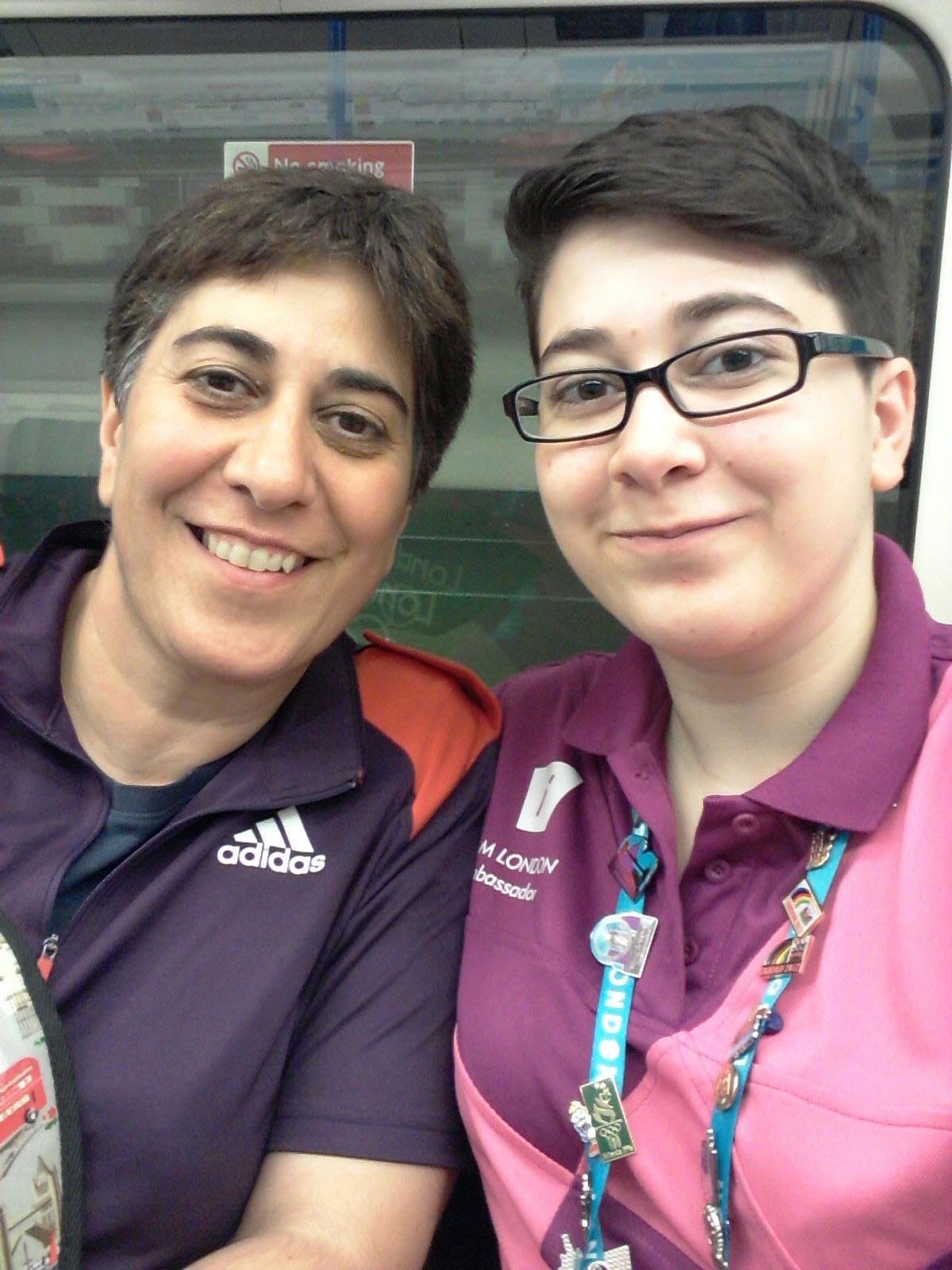 I've been lucky to have many wonderful experiences in my life but to have been one of the 70,000 who helped make the Games a reality will be one of my personal proudest moments. I and my fellow Gamesmakers gained lifelong precious memories. "The other Sue" in the photo sadly passed away weeks after it was taken. I never knew her full name but some of us Gamesmakers went to her funeral in our uniforms to pay tribute. Like the rest of us, she absolutely had the time of her life at London 2012 – and she even met the Queen when Her Majesty visited the Olympic Village.
The Gamesmakers' Olympic legacy
And a final word about my Gamesmaker colleagues. I always say to people that those 70,000 Gamesmakers didn't just vanish into thin air. We are still here, quietly continuing to volunteer at many other sporting events and in our own communities around the country. That is our own Olympic legacy to our country.
---
More from East Anglia Bylines