The traffic congestion that blights Cambridge has been in the "something must be done" category for years. Everybody knows this, and it must seem baffling to outsiders that we've failed to grasp this nettle.
Growth and government
At the heart of the problem are two phenomena.
One is the remarkable growth of Cambridge, drawing in ever more people to live and work here. Great if you're already on the property ladder and live in the city, not so much if you're spending a fortune on rent and travel from a distant village.
The other is that Cambridge is probably the worst governed city in the UK. In recent decades the City Council has flipped between Liberal Democrats and Labour, but the highways and transport authority is the usually Conservative County council. And Cambridge is effectively an administrative island in (recently Tory to LibDem) South Cambridgeshire District Council.
Two new layers
In this context a lack of clear political leadership is unsurprising. Realising this needed rationalising, we added yet another two extra layers of local government:
The Greater Cambridge Partnership (GCP) ­ made up of the City, County and District councils with (for some reason) representatives of business and Cambridge University.
The Cambridgeshire and Peterborough Combined Authority (CPCA) consisting of a directly elected mayor's office and seven local authorities.
Both of these newer bodies seem to think that they're responsible for public transport improvement and have not (until recently) seen eye to eye.
The result of this is a lost decade in improvements in transport infrastructure in and around the rapidly expanding economic hub of Cambridge. Centrally we have a chaotic road layout rammed full of ever more cars, a city that only keeps moving because so many essential trips are made by bicycle. Buses are slow, unreliable and expensive, stuck in daily traffic jams.
A simple solution?
After years of disagreement and stalling, the stars have finally aligned and the mayor and a GCP have agreed on a simple solution. What is that?
Get the bus, peasants.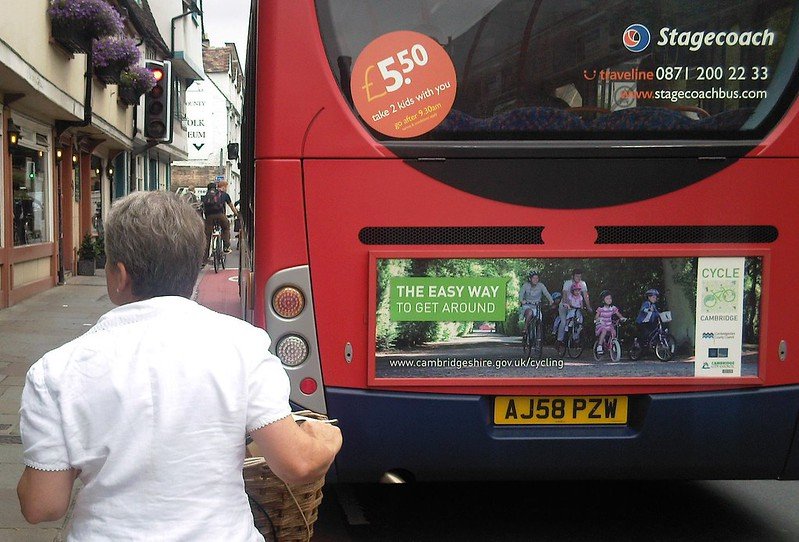 It's grossly underwhelming. They plan to use as much money as they can scrape up to fund better buses for a while, and then the cost will be taken up by motorists paying a £5 congestion charge to subsidise bus trips capped at £4 a day (or less if only within Cambridge). And that frees up road space (for some reason) allowing better cycling provision, of which they don't specify the quality or scope.
For years the former Tory mayor flirted with different forms of rapid transit system, none of which ever got off the ground because the balance of powers on the GCP didn't agree. A Labour mayor took power promising to scrap this in favour of buses, and for a short window we've got an uneasy coalition of everyone who isn't a Tory on the County council, LibDems on the District council and Labour in the City able to agree and cooperate.
And this is all they've come up with: £1 difference between congestion charge and bus fare.
Will that dissuade people from driving and get them on buses?
Active transport and modern rapid transit
When answering any such consultation it's important to separate out the big picture from the minutiae.
The details (specific boundaries of the zone, possible discounts, exclusions, etc.) are best addressed in precise feedback in the consultation (ends midday 23 December).
But the big themes here are the lack of any clear commitment to increasing active transport modal share, and the abandonment of a modern rapid transit system in favour of a highly dubious assumption that people will choose to get the bus if it is trivially cheaper than a congestion charge.
Those problems are sufficient reason to oppose the scheme in this form.
Solution must involve restricting private car use
At county level the Tories will oppose the scheme, and the uneasy 'everyone but the Tories' coalition that runs the County at present is unlikely to outlast the next local election. The County council is the highways authority here, and it's hard to see how this scheme can survive that transition.
And if this is not popular in South Cambridgeshire then the recently won Liberal Democrat majority there will also be in question. So what happens to this scheme when multiple local authorities that feed in to GCP become hostile towards it? Is funding for bus subsidy sustainable in such conditions? I suspect not.
With regret, I can't support his scheme, and I don't see how it can survive in this form. While something must be done, this isn't that thing. There is no solution to Cambridge's transport problem that doesn't involve restricting private car use in some way, but we must do better than this.
---
More from East Anglia Bylines