As billed, the event showcased 'Environment, Culture & Entrepreneurship'. If you wanted to learn about hydrogen cars, a circular fashion economy, conservation education or the first country to become carbon-negative, then this event was for you.
On the first day, the lecture hall filled with people from all over East Anglia, waiting to be inspired by the impressive speaker line-up. People who clearly care about the planet's future. Here's a flavour of what they heard about food and farming – a subject important to our region.
Lord Deben's introduction
Lord Deben, Suffolk Coastal ex-MP and Chair of the Climate Change Committee, explained how to slow the climate emergency. We need regenerative farming, as chemical use has degraded our soil. We should eat less meat, waste less food and move to electric cars. Ride-sharing could develop as public transport for East Anglian villages. New houses should be built close to amenities rather than in remote villages, which creates commuters. East Anglia is a dry area, but liable to floods: we must conserve water, but not build on flood plains.
All good ideas, but as he said, it's urgent. One degree of warming has already caused destruction in the global south; we have little time to keep alive the hope of limiting global temperature rise to 1.5°.
Where are we now?
Tony Juniper, Chair of Natural England; and Mark Cocker, Norfolk naturalist
Juniper says the UK is a nature-depleted country. He welcomed the Canada COP15 agreement of December 2022 "to halt and reverse biodiversity loss by 2030 and to protect 30% of land and oceans…" But we don't need any more hollow promises: in 2020, the UK failed on 17 of 20 UN biodiversity targets.
He points out that industrialisation started here in the 18th century, so if we can reverse its ravages, anywhere can. We must start counting the countryside amongst 'public goods' – beneficial things that you can't buy.
Juniper believes that adequate food production depends on nature recovery, but that farmers need financial support for it. The Countryside Stewardship scheme pays less per hectare for letting land re-wild than area farming payments bring, so is unattractive. Farmers are crucial in rebuilding our relationship with the land.
He wants house-building integrated with local nature recovery and government budgets for levelling-up, forestry, farming and flooding to be deployed into environmental regeneration.
Sustainable Food
Patrick Holden, Sustainable Food Trust co-founder; and Neil Ward, UEA Environmental Sciences professor and government agri-food advisor
Since the agri-food industry (farms and food companies) creates one quarter of UK gas emissions, it must change. Stakeholders disagree on how. 'Sparing and sharing' are opposing approaches. 'Sparing' involves intensively farming most land but putting aside pockets for nature; 'sharing' is low-intensity agriculture with wild areas, allowing nature and farming to co-exist.
Add in the long-standing debate over whether meat can be sustainable, and there's a lot to settle here. It takes much more space to produce the same amount of protein from meat as from vegetables, and then there's methane emissions. Lord Deben's Climate Change Committee recommends 35% meat reduction by 2050, so clearly livestock farmers need answers.
A healthy discussion ensued here: organic farmer Holden asserting the possibility of farming meat sustainably, Ward describing intensive chicken farming as a real problem. He recommends the development of a carbon measurement framework to show each food's carbon footprint.
Intelligent questions came from the audience, which included farmers. Evidently an issue warranting further examination.
Sustain Festival: a valuable forum
The event was really useful to air issues often left to parliamentary committees, or experts at private conferences. Everyone should be aware of the dilemmas we face and possible solutions.
EA Sustain is organised by Joanne Ooi. Another initiative of hers is the EA summer festival, at Hedingham Castle for the third time this June. Another showcase focussed on music, literature, art and the environment, aiming to entertain and foster creativity in the region.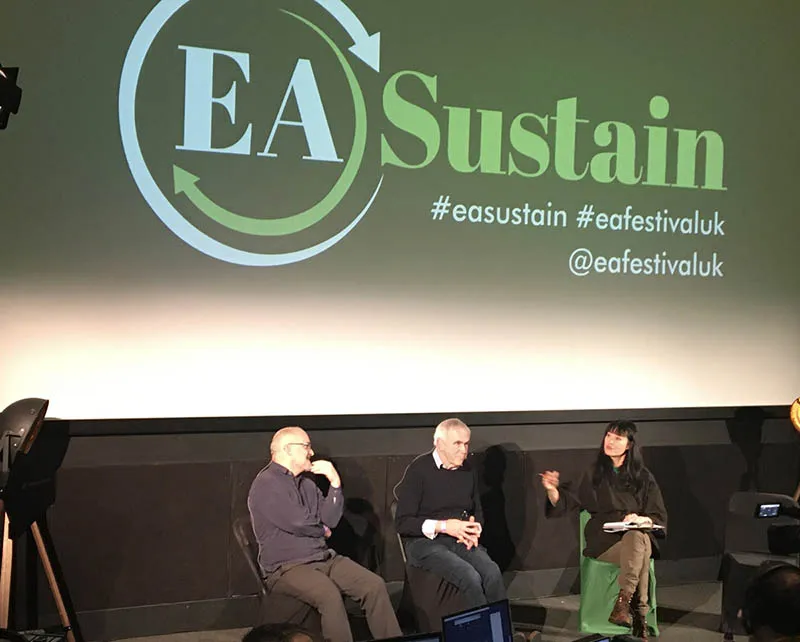 ---
More from East Anglia Bylines
---