In 1944, Marie Paneth, an Austrian-born art therapist, imagined a scheme whereby London's bombsites would be used by local children for building huts and caves and for growing vegetables which they could then sell. Paneth saw the children as the future landlords of these damaged grounds, with minimal adult intervention.
In 1946 the children's rights campaigner and landscape architect Lady Allen of Hurtwood visited the Emdrup junk playground (Skrammellegepladsen Emdrup) in Denmark. Opened in 1943 by a workers' cooperative housing association on the outskirts of Copenhagen, it featured all sorts of dens and play structures, including a tall watchtower, that children were building from spare building materials donated by local builders.
Lady Allen returned to the UK and wrote an article for the magazine Picture Post, that featured photographs of the Danish junk playground under the headline, "Why Not Use Our Bombsites Like This?" The idea caught on. In 1948, the National Under Fourteens Council (a youth service associated with the charity, the National Playing Fields Association) published a leaflet advocating for junk playgrounds. They also organised a conference in London to discuss the new phenomenon and set up one of the UK's first junk playgrounds on the site of a bombed church in Camberwell, south London.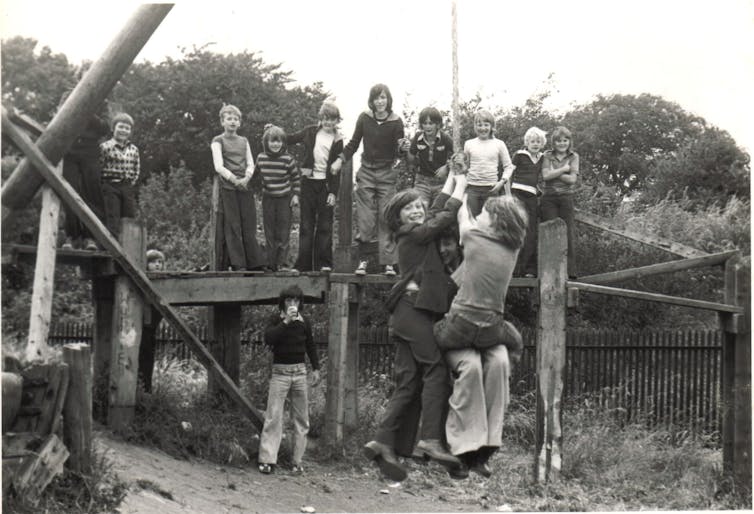 By about 1954, the name "junk playground" was dropped in favour of the term "adventure playground", with early examples appearing in Liverpool, Bristol, Romford and Grimsby, as well as a growing number in London. My research shows how the traumatic devastation of the second world war allowed progressive planners and landscape architects to reimagine a city more amenable to the needs of children and young people.
Child-centred space
Adventure playgrounds offered a new kind of space for a larger age range of children than were catered for by the swings-and-slides type of playground most cities and towns had featured until then. Lollard Adventure Playground in Lambeth, London, had members aged two to 22. Most of the young people over 15 who came to Lollard were working full-time. They'd come to play after work and at weekends.
In one respect, adventure playgrounds followed on from various so-called "child-saving" schemes from the 19th century. Set up in working-class areas by playground campaigners usually backed by the National Playing Fields Association and by charities such as Save the Children, these programmes were designed to protect vulnerable children from the moral and physical dangers of urban life, which increasingly came from fast moving traffic. However, where adventure playgrounds differed was in how child-centered and child-directed they were.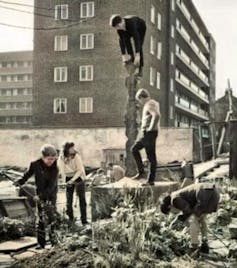 Earlier playground movements were founded on principles of shaping young citizens through team sports and organised activities. They had a moralising mission often associated with a form of muscular Christianity.
Adventure playgrounds, by contrast, grew out of an interest in the emergent philosophy of play, as initially conceived of by the German pedagogue, Friedrich Froebel, among others. They also took their cues from the radical teaching experiment that the educationalist Alexander Sutherland Neill had put in motion at Summerhill School in Suffolk. There, pupils attended lessons when they felt ready. Staff and children deliberated together about school rules.
Similarly, adventure playgrounds never compelled members to participate in any project. It was up to them. These playgrounds were specifically aimed at those children and young people deemed "unclubbable": those who were allergic to the charms of the local church youth group, or the ethos of team sports.
A Parable of Anarchy
This emphasis placed on children's autonomy was one of the reasons the magazine Anarchy dedicated its September 1961 issue to the "Adventure Playground: A Parable of Anarchy". The adventure playground was seen as distinct from both the authoritarian spaces of 1950s homes and schools, and the street, where climbing, exploring and lighting fires – all forms of adventure play – might result in a juvenile court appearance. They offered a different kind of space, where children were free to take all sorts of risks, from jumping off a wall to putting on a musical.
The adventure playground movement also invented a new role: the playworker. The playworker was neither a teacher nor a social worker. Their job was to help play thrive, in all its forms. They would only intervene when asked to, by a child, or when a child or a group's activities were detrimental to the play activities of others. The playworker learned play from children, not from books.
The 1960s and 1970s represent a high watermark of experimental play environments for children in the UK. Adventure playgrounds flourished as did other new kinds of opportunities, including city farms and play busses.
In the intervening decades, academics, psychologists and educators have increasingly recognised the central importance of risky play for development. There is broad consensus that children discouraged from physically adventurous and risky play risk being deprived of the social and risk management skills, resilience and self-confidence that this kind of activity fosters.
Despite this, playground provision since the 1980s has increasingly been risk averse. Today, rather than pay a playworker's salary (however ludicrously small that is), local councils are probably more likely to use their resources to pay for expensive fixed devices on soft-surfaced ground. These are obviously great risk-free fun for your lively five-year-old, but totally dull for a twelve-year-old.
Adventure playgrounds do still exist. There are four in Bristol where I live. Wrexham has an amazing example (the Venture) and London still claims to be the spiritual home of the adventure playground movement. But they are struggling financially. We no longer have bombsites, but we do have city centres teeming with empty shops. Could that same progressive spirit be harnessed to repurpose these spaces for free-range play?
This article is republished from The Conversation under a Creative Commons license. Read the original article.
---
More from East Anglia Bylines
CLICK HERE TO SUPPORT THE BYLINES NETWORK CROWDFUNDER!