At this time we should take time to remember all those, from home and abroad, who have served and continue to serve this country, the loved ones we have lost and families left behind. Our freedom and the freedom of peoples around the world comes at the cost of lives, life-changing injury and mental anguish. Let us never forget that we must continue to express our heartfelt thanks.
Below is a transcript of a letter written by my father, Flt/Sgt Leonard Charles Mayhew, to his wife Margaret who he lovingly nicknamed "Sally" after the darling in the song "Sally in Our Alley".
Mayhew, born in Oulton Broad, Suffolk, served in Bomber Command as a flight engineer / co-pilot of a Lancaster Bomber in the Second World War. Volunteering for the Royal Air Force in 1939 at the age of 21, he survived nearly five years of warfare in an occupation where life expectancy was less than one month.
Nearly 56,000 Bomber Command service personnel lost their lives in battle – more than half its entire force. Its casualty rate was higher than any other section of the British Armed Services.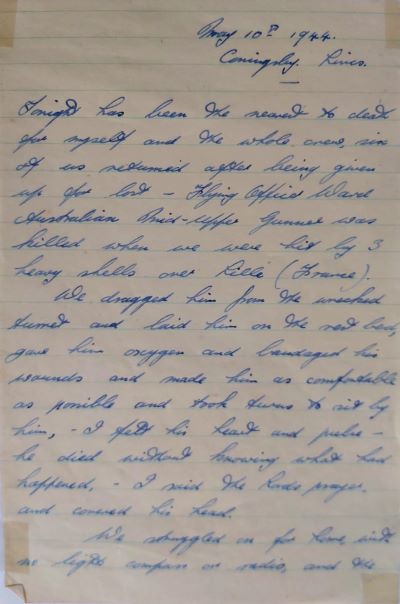 May 10th 1944
Coningsby, Lincs
Tonight has been the nearest to death for myself and the whole crew, 6 of us returned after being given up for lost. Flying Officer Ward, Australian Mid-Upper Gunner was killed when we were hit by three heavy shells over Lille.

We dragged him from the wrecked turret and laid him on the rest bed, gave him oxygen, bandaged his wounds and made him as comfortable as possible taking turns to sit by him. I felt his heart and pulse – he died without knowing what had happened. I said the Lord's Prayer and covered his head.

We struggled on for home with no lights, compass or radio; the elevators and rudder badly damaged and difficult to control. The inter-communication system had been put out of action and beyond repair. We had to shout in each other's ears above the noise of the engines to make ourselves heard. One of the engines had been hit and in danger of catching fire, but we got back 55 minutes late.

We buried Harry in the colonial cemetery at Cambridge. Nobody said much but I guess we all thought alike – he was one of the best and we would square the debt, I hope we get the chance.

Even while we were expecting to be shot down that night I still found time to think of Sally and the kids. I know that if it ever does happen dearest, I shall be thinking of you and the children.

God Bless You
One month after this letter, my father was shot down and lost his life over France.
Flt/Sgt Leonard Charles Mayhew is buried in a village churchyard at Marles-sur-Canche in the Pas-de-Calais.
---
More on World War 2 in East Anglia Bylines