The present difficulties involving the BBC and Gary Lineker illustrate again a point not lost on the public, that the establishment will always look after its own. They know a cover-up when they see it. The focus may have been on Gary Lineker, but he only demonstrates the difference between mere mortals such as he and those who seem to see themselves as moving in a different sphere. Both the chair and the director-general seem incredulous not only at the very idea they should be judged by the same criteria as those they employ, but also that this should be anyone else's business but theirs.
This difference is only more starkly demonstrated since their denials came just a couple of days before those incriminating emails proving that, yes, the government did lean on the BBC during Covid and, yes, the BBC accordingly adopted a diagonal posture.
Pecksniff has never joined the clamour against the BBC for bias, since so much of it is ill-informed. But the evidence that they did submit to requests by the government over Covid means as a result every BBC hack has lost his cloak of probity. They are now all fair game.
*
While we are on the subject of the BBC, we should not overlook the strikes which took place around the country on Wednesday among those working in local radio and regional television. Pecksniff has shared the cordite whiff of dramatic news with the BBC's local and regional teams for many years, and the tortuous political machinations which so enrage viewers and listeners in the BBC's national coverage simply don't occur at local level. In fact, local BBC staff habitually see themselves as being as denigrated and ignored by Broadcasting House as a far flung province of ancient China.
The proposed cuts are disastrous for viewers and listeners, and for democracy. They will mean more networked content and less local news and features, just as the local press follows the same depressing path. No investigations, no holding the powerful to account, (if they ever did, come to think of it). That means local politicians will be given an even easier ride, and incompetence, corruption and cover-up can flourish.
*
The refugees and boats issue has yet to play out, but as the diary noted last week, the Tories still have problems to overcome. For a start, Braverman's savagery is too much even for some of her own backbenchers. A majority of the public are in favour of sending them back, but that doesn't mean they support the government, who they see as being as incompetent at this as they are at everything else. Their stridency is making no difference to the polls.
The other problem is that though many of the public may side with the government's intention of not allowing refugee boats here, it isn't their first priority. That point is made by the polls and is reiterated on the doorstep. The cost of living is what preoccupies the voters. Pecksniff has been tracking the reception of canvassers as they work on the forthcoming local elections, and the feedback is the same everywhere. The one glimmer of hope for the Conservatives is that Rishi Sunak seems to be making some headway at last, but not yet his party.
*
This week the government announced 12 'levelling up' investment zones, yet not one in East Anglia. No doubt someone would joke that it's flat enough as it is, but after all, why would they? The whole idea of levelling up was never a serious economic policy: just a quick headline to give the impression that the man in No. 10 cared. It was a way of bolstering the government's reputation where they felt they most needed it: among the poor and the most recently won over.
Now much of East Anglia could certainly claim poverty, but the government has seen no reason why on earth voters should change their habits of a century and more and continue to return Tory MPs. So why fill their coffers with gold? They are poor, but unlike bolshie midlands industrial areas they have never sought to climb above their station and vote for anyone but those they consider their betters. Forelock tugging is assumed to be alive and well in Mundesley, Wormegay and Old Beetley, so why waste the moolah on what is already a sure vote?
*
James Cleverly (Braintree), the foreign secretary, seems to be in the news these days. This week he was boasting about how Britain "walks taller" in the world because Rishi Sunak has decided to spend lots more on defence.
There may well be a case for it, but Mr Cleverly chose not to make it. Instead, in the language of Boris Johnson and Liz Truss (SW Norfolk), he chose to brag about how strong it makes us look. Who is it intended to impress? "Britain now has a bigger willy" as a message to the world is both unprepossessing and embarrassing, and the statement is intended only as emergency Viagra for the wilting prospects of his own party.
*
The Conservative Party has been in thrall to their European Research Group for several years, but now seems in transition to the bizarrely named Common Sense Group (CSG). For all their wide-eyed fervour, the ERG are the ideologues, what might very loosely be called the intellectual wing of Tory Brexitism. We know this because Mark Francois (Rayleigh and Wickford) tells us so. "We are not stupid," he declares. So they have put their brain cells together and seem to have concluded the game's up. Even Steve Baker has jumped ship.
Vice chair of the CSG is our old friend Tom Hunt (Ipswich), who is getting lots of air time these days. With his perpetual perplexed frown, he only needs a knotted hankie on his head to become a Monty Python character. But Mr Hunt should be wary. As Pecksniff has pointed out frequently, TV producers do not call on MPs for their startling insights but because they seem to carry around with them the imminent likelihood of the sound of breaking crockery.
*
After speculation last week, we seem to have confirmation that South Norfolk Conservatives want to de-select their MP, Richard Bacon. He has been the MP since 2001, and it has always been considered a safe seat. In 2019 Mr Bacon won 58% of the vote, with a majority of 21,275. He had made it clear in December that he intended to stand again.
But such is the public disenchantment that some polls suggest he could lose next time to Labour. To that, it seems his local party has added his own unpopularity. He has been accused of being invisible and ignoring his constituents. A year ago his party's canvassers were reporting he was described as "lazy" and "useless" on the doorstep. He was embarrassed by a pressure group against sewage called East Angrier, and EAB and in particular Pecksniff have frequently criticised and ridiculed him.
It seems this criticism has begun to tell, since the reason his local members gave to replace him is that he has not been "visible" enough. But South Norfolk constituency is undergoing boundary changes, so it may be that new members to the seat have swung the balance. In which case, Mr Bacon will be geeing up his old chums for their support, and we might look forward to an enjoyably bloody period of civil war.
*
The future of Richard Bacon remains uncertain, since it is not clear what powers last week's meeting of local Tories had to remove him or whether he would have any right to appeal. There is no mention of the initiative on either the local party's site or on Mr Bacon's.
There have been moves among Boris Johnson loyalists to remove those MPs they consider traitors to the one true king, but Mr Bacon was as obsequious to their hero as they could wish, so that can't be what's behind it. But the prospect of a new candidate is intriguing. His party will naturally hope he can hold the seat, when clearly they begin to have doubts about Mr Bacon. But what kind of figure then are they likely to choose? Will it be a high flyer, parachuted in? That seems unlikely to impress the good people of Loddon, and there are plenty of egos among Norfolk Tories from which to choose.
*
This week Chloe Smith (Norwich N), a work and pensions minister, was proud to tell the world that the culmination of her work on "bold reforms to health and disability benefits is published today as a white paper. Vital to help people to try work where that's right for them."
But "where that's right for them" is the problem, of course. It is pointed out that there is presently an 18-week waiting time for the government's Access to Work team even to respond to applicants.
*
Vicky Ford is the Tory MP for Chelmsford, and it is no doubt remiss to have overlooked her for so long. But this week Pecksniff is in the happy position of being able to put that right. It is reported that Ms Ford visited Hylands School in her constituency, to spread the glad tidings about the Conservative government, but the students were having none of it. This being a secondary school they are old enough to have formed their own opinions on that, and Pecksniff is informed they asked questions with a lucidity and honesty likely to make most broadcast journalists blush.
Without the same opportunity of having them toe the line as she might hope in dealing with the BBC, Ms Ford appears to have taken the only other option open to her. She is reported to have walked out in what Stanley Holloway would have called "a dudgeon".
If any reader should know more about this incident, in corroboration or denial, Pecksniff would be pleased to hear it.
*
One of these days, Pecksniff really must look more closely at the goings-on among those scamps on Fenland Council. This is the backyard of that stalwart of Conservative government, Steve Barclay (NE Cambs), who might well feel slighted at the lack of confidence his local colleagues have in his abilities to show the Tory flag. It is noticeable that the party's canvassers for the forthcoming local elections seem to have removed the incriminating word 'Conservative' from their rosettes. Does Mr Barclay know, and does he approve?
Instead, and according to that political funster John Elworthy of CambsNews, they have rebranded themselves as 'the Blue Party'. So under what political banner is their literature shoved through the door of its unwilling recipients? Wouldn't it be fun to find out!
*
Broadland Council is an angry and frustrated place at the moment. They are in an unhappy marriage with South Norfolk Council, with whom they share offices, website and many functions. Councillors are feeling bruised at being the whipping boys of the enormous ego and ambition of Councillor John Fuller who leads South Norfolk. Many Broadland councillors are unhappy at what appears to be an attempt at lebensraum by Mr Fuller and his council, and they include many Tories. They are alarmed by moves which will reduce public scrutiny on council policy, which one shocked Tory suggests is like "Marking your own homework". But true to form, though they may mutter complaints in committee, they never vote against the overweening demands of their leader on policy, and to save face and hide their cowardice it seems many often don't even turn up.
What do their voters think about this? Do they know? Do they care? Do the councillors care? There will be elections in both Broadland and South Norfolk in May. Pecksniff would be pleased to hear any feedback from those with an ear to the ground.
*
Social media this week seems full of heart-breaking images of felled trees, destroyed by councils or developers against the wishes of local people. There are protests, but they are ignored. So those angry and thwarted would-be tree champions only illustrate further our impotence against an uncaring and vainglorious bureaucracy which we have allowed to brutalise our lives.
We brought it on ourselves. The British – more specifically the English, perhaps – are a profoundly unserious nation, who in recent years have ignored the trashing of scruples in public life and seemed almost proud to have done so. Hence our politicians have emasculated our democracy and we have cheered them on as they did so.
We can't even describe what we're left with as bread and circuses, since there is precious little bread. Circuses then – politicians on TV game shows, politicians openly lying but making a joke of it, all the fun of belittling Johnny Foreigner during Brexit. Dear reader, we happily voted for them all…
*Thanks this week go to the Tom Hunt Fan Club, Helen Forte and Mr Chewy
---
<<< Pecksniff's Diary: last week
More from East Anglia Bylines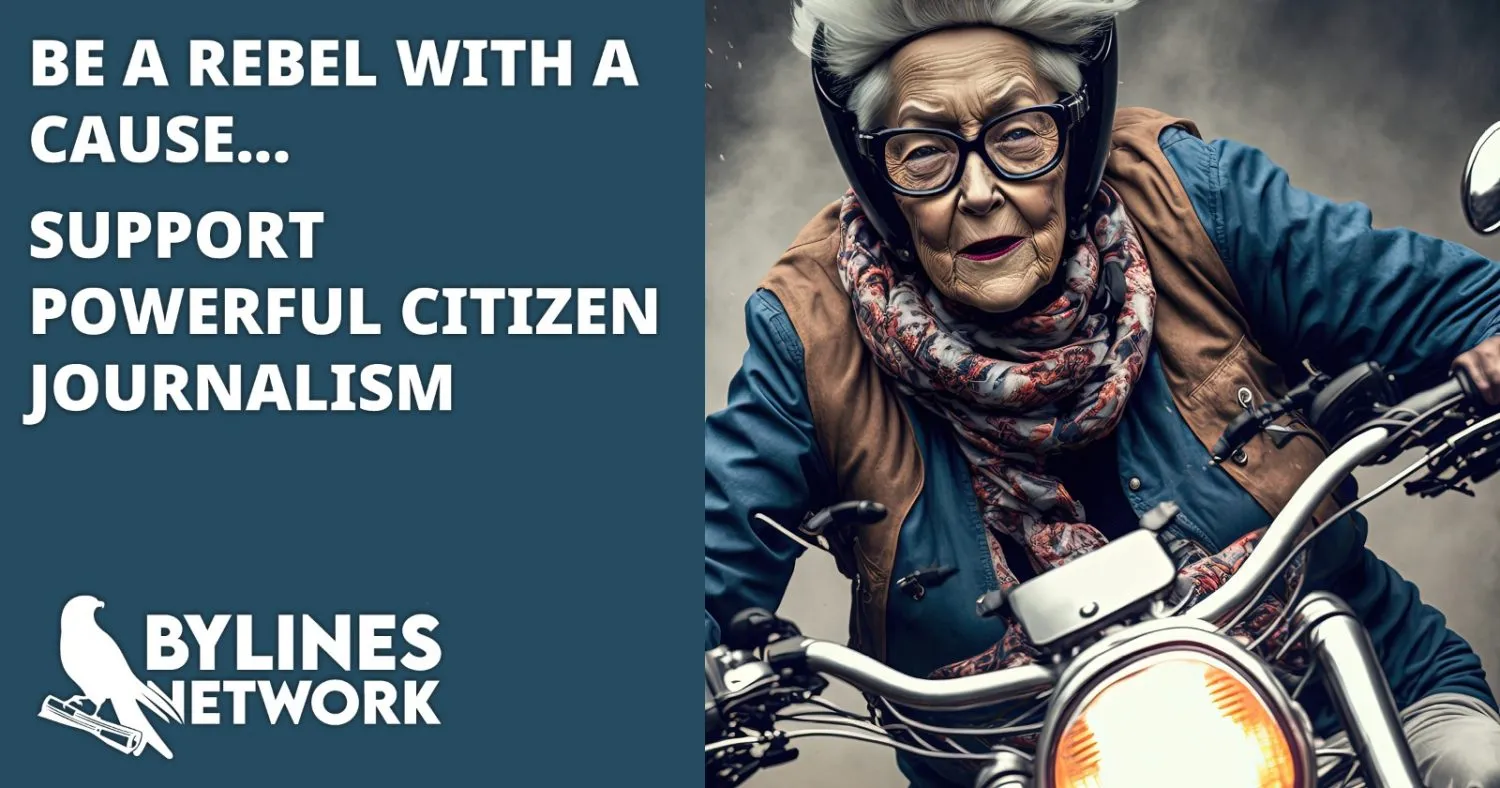 CLICK HERE TO SUPPORT THE BYLINES NETWORK CROWDFUNDER!