Rishi Sunak presses on with his obsession with refugees and small boats. We should not assume, even if he does, that this is because immigration is one of the few Tory strong points. The polls show it isn't. The public, even those who view rejecting refugees as a priority, aren't impressed at what they see. Labour is considered to have a better grasp of the problem. God knows what that is, but whatever, the punters trust them more than the Tories on this subject.
So Mr Sunak is doubling down, which means either he knows something we don't, or he's hoping to luck, or he's a rabbit in the headlights, and with his party screaming at him to do something he can't think of anything else.
Consider. The scheme seems almost certain to be declared illegal under international law, and will draw criticism from around the world. Nobody likes being billy no-mates, even Little Englanders. And since it's difficult to see how the plan can work either, and even if it does it probably wouldn't be till after the next election, from where does the PM assume he will find his salvation? We find Mr Sunak putting all his eggs in Labour's basket.
*
It's good to know the foreign secretary, James Cleverly, is against the idea of concentration camps, though only perhaps if they besmirch his own constituency of Braintree.
He naturally supports his government's measures on refugees, and one of those measures is to house them in hotels around the country. But just as naturally, he believes they should be sent anywhere but to Braintree.
His objection is that, in this case, they are not to be housed in hotels but on an ex RAF base, Wethersfield. He has a point. As several have observed, it does look rather like a concentration camp. The base is bleak, in the middle of desolate countryside, with no town nearby and no transport or access to facilities. Are the refugees going to be free to roam? If they aren't to be incarcerated, does that mean they will be wandering around the local neighbourhood to the consternation of the locals?
Never can any previous British government have been so devoid of any idea how to run a country. Nothing is planned actually to work, but merely to give the impression to the faithful that it might work, just to get through the day.
*
More evidence from a leaked WhatsApp exchange has reached Pecksniff, intimating that Jackie Doyle-Price (Thurrock) is falling out of love with her party and her parliamentary colleagues. In the diary of 10 February, Pecksniff revealed how she had attacked her own party for its position on the European convention on human rights, implying she might resign over the issue. This week, in a Tory chat group she declares of Sue Gray: "Decades of public service where she has inspired respect on all sides don't deserve to be trashed by a herd of Conservative MPs who just want to fight a partisan battle. I am quite ashamed of what I see."
Readers will not be surprised to learn that Nadine Dorries (Mid Beds) does not agree. "Civil servants are furious!" she declares, without offering any evidence of her assertion. Perhaps it is because they can't speak up for themselves, but one has to ask – in all objectivity – whether if these put-upon civil servants were as distraught as suggested they would choose Ms Dorries as their mouthpiece.
The voice of the voiceless then goes on to accuse Ms Gray, oddly, of "undermining every Labour-facing MP in tight marginal seats". What, one wonders, is so special about Tory marginals that a civil servant jumping ship is going to swing their vote?
Paul Bristow (Peterborough) (bless him), adds to the exchange as follows: "Can I also suggest we keep conversations like this off this whatsapp group. It will leak." So wise.
*
In his TV appearances, Tom Hunt (Ipswich) looks increasingly like Billy Bunter with indigestion. He made another of his frequent appearances on Politics Live this week. For those readers wondering what the producers see in him, they see the same as you. MPs are not invited on to the show for their articulacy in explaining the minutiae of the budget, but for the audience reaction. The same is true of Nigel Farage on Question Time: viewers watch him because he enrages them. Dear reader, this is bums on seats. It's showbiz. The way to rid our screens of Messrs Hunt and Farage is not to watch them.
As to Mr Hunt's performance, it has been described as sneering, arrogant, misogynist, odious and loathsome. And it will be next time too. Until you stop watching him.
But you won't, will you?
*
The biography on George Freeman's Twitter account these days reads more like a job application, which given his standing in the polls it might well be. It makes no mention of Mid Norfolk, the constituency he is supposed to represent, and lists his only address as Westminster. Instead, it includes a list of his professional qualifications and positions he has held. The odds on his holding on to his seat at the next general election have lengthened considerably in recent months, and Electoral Calculus gives him only a 36% chance.
*
We learn this week that Anthony Browne (South Cambs) apparently supports proposed measures which aim to tackle water pollution and hold water companies to account. He says: "Water companies should not be paying a single penny in dividends until they have tackled pollution, cut leakage, and secured a steady supply of clean and plentiful water."
But in October 2021 Mr Browne was one of those Tories who notoriously voted to continue to allow raw sewage to be pumped into our rivers. So what has changed? A brief glance at Electoral Calculus may tell us. He is now facing a very tight race for his seat at the next general election. He is reckoned to be running in second place behind Labour, with the LibDems breathing down both their necks.
"You can't learn too soon that the most useful thing about a principle is that it can always be sacrificed to expediency."
~W Somerset Maugham.
*
A colleague reports seeing a copy of the Matt Hancock book remaindered in a charity shop in Huntingdon for £5. It was noticeably unthumbed. But on the other hand, Mr Hancock's book is also listed by Amazon under their 'infectious and contagious diseases', though this category is thought to refer more to the author than to the subject matter.
*
Early reports from the upcoming local elections on 4 May support the opinion polls, though election organisers are always reluctant to let on what their canvassing is telling them. Which is a good way of finding out who is telling porkies. Nobody will admit to doing badly, of course, but caution or superstition prevents them from bragging too. So "Our vote is holding up very well" or "Nobody has brought up national politics" can immediately be interpreted as "We're getting our arses kicked".
EAB will be offering the most comprehensive commentary across the region, providing a live daily blog from over a hundred spies and malcontents correspondents across Suffolk, Norfolk, Essex, Cambridgeshire, Hertfordshire and Bedfordshire.
One of the key councils is East Cambridgeshire. At the moment it is Conservative-controlled: they have 16 seats, the Liberal Democrats nine; there are two independents and one non-aligned. From the whispers so far, the LibDems seem, as an old neighbour would have said, "as happy as a dog with two bricks". (Your diarist wondered what a dog would want with bricks before realising she was too polite to pronounce it with a 'p'.)
*
This is from the diary of 20 January: "Cambridgeshire is granted £50 million to redevelop the station area in Peterborough, for which MP Paul Bristow and Peterborough Council leader Wayne Fitzgerald are keen to take credit … in spite of having had bugger all to do with the application, which was made by the Cambridgeshire Combined Authority. Such was public response to their efforts at self-aggrandisement that it was taken down."
But the Tories now have a local election to win, and self-aggrandisement and telling fibs is all grist to the mill. So the same shameless claim turns up again in leaflets being distributed around the city.
*
While we are talking about Paul Bristow, he has been defending Boris Johnson over Partygate, scoffing that the knees-up in question must have been "the worst party ever". So according to Mr Bristow, we now know Boris Johnson can't even organise a piss-up either.
There is something about Mr Bristow's rather chemical smile that is unsettling. He looks as though he is making an implausible money-making offer to someone who ought to have more sense. If shaking hands were ever necessary, Pecksniff would recommend counting one's fingers afterwards.
*
There is a new party contesting the May local elections. The Breakthrough Party describes itself as "a new home for those who have been abandoned by the political establishment", which of course includes a number of disaffected Corbynists who have left Labour. "We are the working class in all its diversity," it announces, "rising up to take power from the elite and give it back to the people".
A problem the party may find is that many of the working class seem to be becoming increasingly conservative in their views, but no matter. To do the party justice, they are actually going out into the streets and talking to voters – Cambridge and Colchester so far. One wishes them fair weather, but they will do well to escape the clutches of the Trots, who are the sharks of politics and forever patrolling the waters of the left and looking for tasty morsels to gobble up.
Breakthrough are contesting two seats in the east in May, in Fenland and Basildon.
*
This week featured International Women's Day, that annual smirk of complacency towards half the world's population. Pecksniff implores readers to look up Celina Bledowska's wonderful tale on EAB of Black Anna and the Jolly Butchers in Norwich. Happy days, with such happenings as would even get you chucked out of the Muckrakers Arms.
But IWD is another exercise in gesture politics. The woke among us strut a bit and pat ourselves on the back, while for most people the day passes without recognition. It's the echo chamber again. We like to feel we're doing something, whilst knowing perfectly well we're doing bugger all.
Compare the suffragettes. Violence aside they infuriated the establishment, without which nothing will ever change. Without all their efforts, MPs on the Tory benches would still be arguing on TV politics shows about how votes for women was an unnecessary and unwise idea. We could even name them.
There are few enough modern-day equivalents of the suffragettes. Dear reader, what are we like? Where did we lose our passion? May one suggest that, to follow Black Anna, a spirited rendition of "If you don't please momma every night, then you won't see momma at all" would achieve far more than a po-faced letter to the local paper.
*
Thanks this week go to Karl Whiteman
---
<<< Pecksniff's Diary: last week
Another East Anglian luminary from East Anglia Bylines' International Women's Day series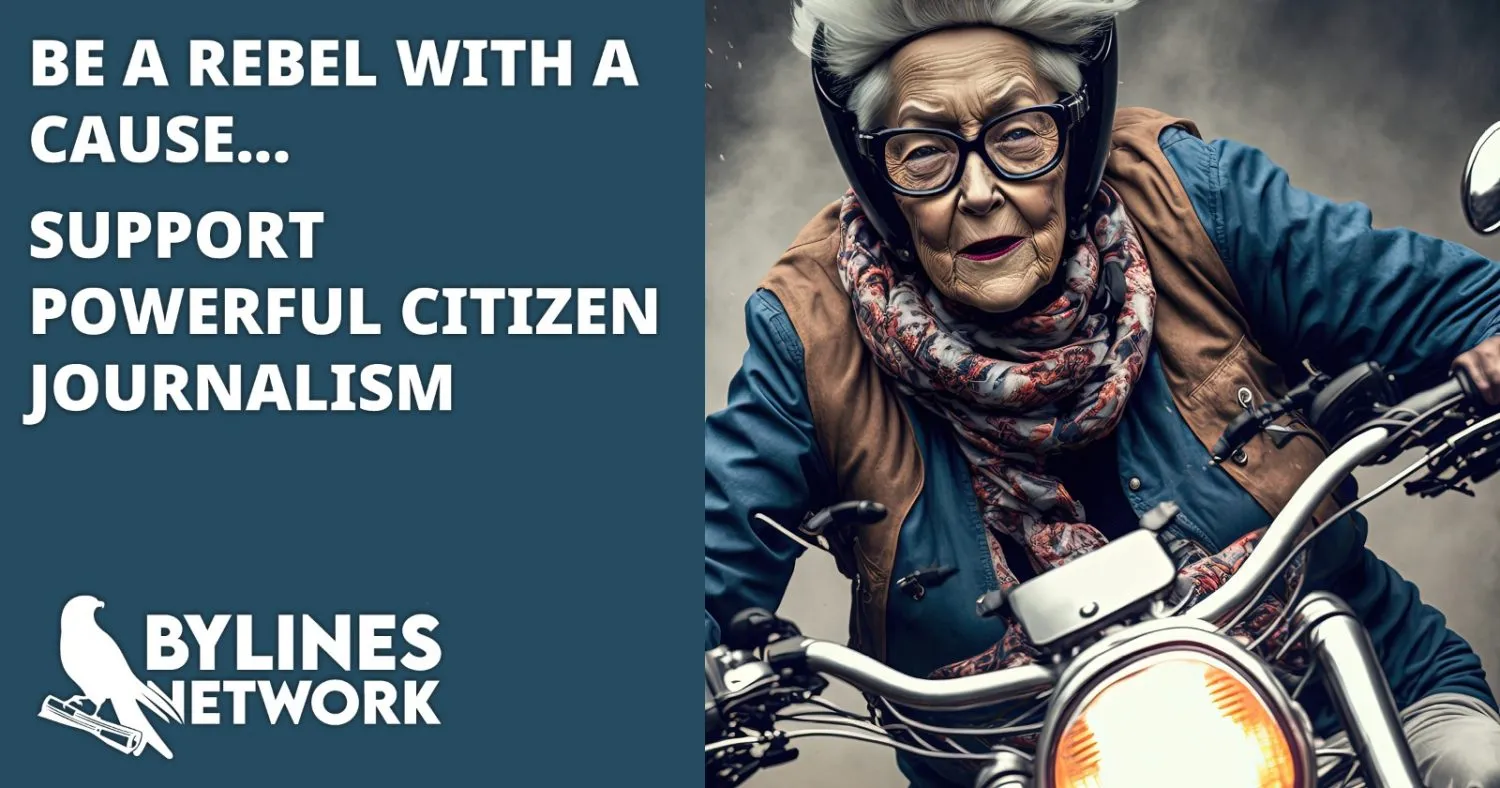 CLICK HERE TO SUPPORT THE BYLINES NETWORK CROWDFUNDER!