Sam Cornish, owner of a micro bakery in North Norfolk, is passionate about making bread, especially sourdough. But she is more passionate that consumers of bread should know exactly what they are eating. Most don't.
"Authentic sourdough bread," says Sam, "is made from just 3 ingredients: flour, water and salt. That's it. Flour, water, salt." Her concern is that that is not what you will find in supermarkets and some chain bakeries. "There's a loophole," she explains, "with regard to bread labelling in the UK. Supermarkets are not obliged to label what is in the sourdough, or any loaf that you buy that is not pre-packed."
SourFaux
Vanessa Kimbell, a specialist sourdough baker who runs The Sourdough School, is renowned for her work on long slow fermentation. She wrote in 2022, "The increasing presence of chemical additives and agrochemicals in our daily bread is a cause for concern. The long-term health effects of these substances, particularly when consumed in combination, are not yet fully understood."
A staunch member of the Real Bread Campaign, Sam Cornish advocates their Honest Crust Act which champions stricter marketing and labelling. "There is no legal definition of 'sourdough'," Sam explains, "hence the sourdough you buy may contain baker's yeast, preservatives, enzymes, emulsifiers, improvers and even vinegar to make it taste sour. This is not sourdough bread but an ultra-processed food with questionable nutritional, or health, value."
The real stuff
According to Sam, her customers often comment that her bread does not go mouldy, just dry. In comparison, other sourdough breads they buy develop mould. "And yet," she says, "they may contain mould inhibitors." Other customers comment that they can eat her bread without getting bloated or putting on weight and she attributes this to two factors.
First, the long slow fermentation process of real sourdough (Sam puts her sourdough in the fridge for about an 18 hour retarded fermentation), which breaks down the gluten and lowers the glycaemic index, preventing insulin spikes. Second, the ingredients she uses are just flour, salt, water, and from time to time, seeds, olives, herbs, sun dried tomatoes or other natural additions to give her customers variety.
With increasing focus on the health impact of Ultra Processed Foods, Sam argues, "Customers have a right to know what they are eating. I believe every ingredient should be written on the label and every bread sold should have a label."
The Damascus Moment
Sam's own sourdough journey started 6½ years ago. She noticed that after eating bread made using the Chorleywood Bread Process, she was always bloated. Hence she started to bake her own, and often gave some away. When the local vicar suggested she sell a few loaves, Sam had what she calls her 'Damascus moment'. "In the first week, I took £17.50 and I was hooked." Now she runs Bread of Haven from her home and bakes four times a week, making 70-80 loaves a day.
Key factors for good soudough bread
In the corner of what was her spare bedroom is an enormous pile of organic strong flour. She orders 500kg every three weeks. In the past year, however, Sam reports that she and other bakers have noticed that the flour quality seems to have degraded. "This may be due to the war in Ukraine and so I am adding higher protein ciabatta flour to compensate."
There are a number of factors involved in the process of making sourdough with consistent crumb – being neither chewy nor with big holes. It is about the protein content of the flour, how the dough feels, calculating the amount of water needed based upon the temperature of the room, the flour, the levain and the friction from the mixer, avoiding too much trapped CO2 as well as having the 'perfect oven'. Here she almost caresses her RackMaster RM2020 oven, from Wickford in Essex, and waxes lyrical about the designer who, making his own bread, saw the flaws in other bread ovens and "fixed them".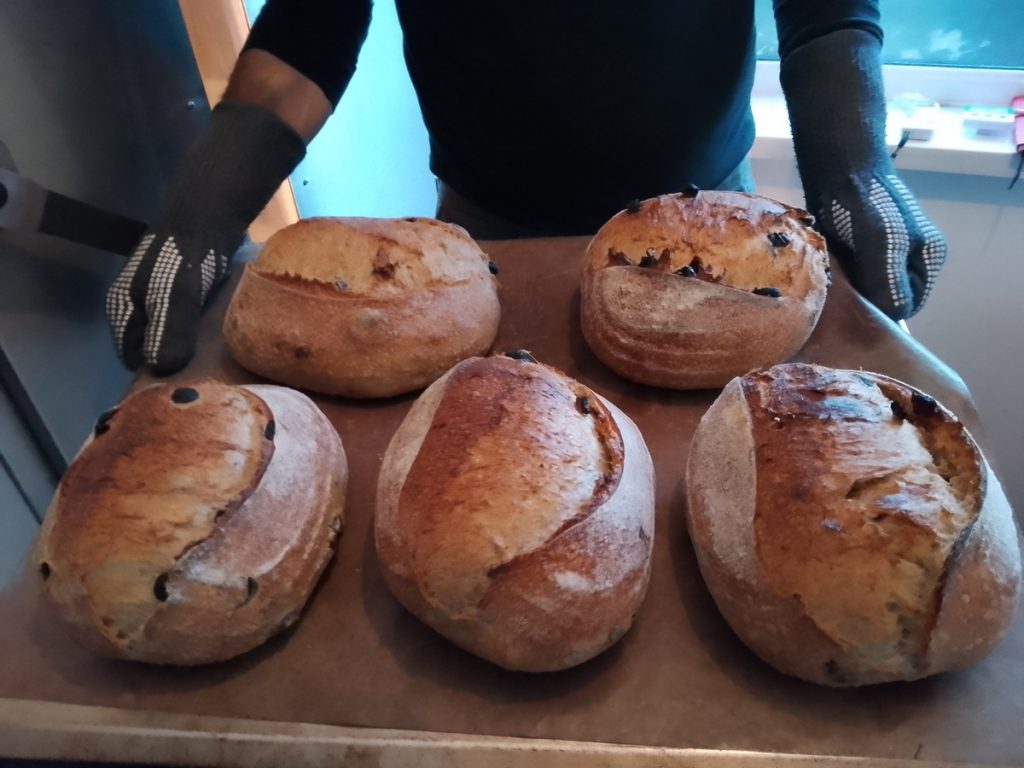 Cost and trickery
What about cost? Sam charges £3.40 for 800g white sourdough and £3.50 for an 800g five-seed spelt loaf. How does she answer the charge that her sourdough is quite expensive?
"Large scale bakeries use dough enhancers to make a loaf look bigger and fluffy. It looks large but will weigh the same. It's all to trick the eye. And if you are buying a loaf which could contain as many as 19 ingredients, is that really bread?"
"Everyone is entitled to wholesome bread. Buying bread which has limited nutritional value is actually a waste of money, and worse if it harms your health."
To prove her point Sam compared the cost of a supermarket sourdough loaf to her own. The supermarket one costs 56p per 100g. Her own, baked with organic flour and seeds, cost 44p per 100g, and is nutritious and lasts well. "Explain that," she challenges.
For those not living near Sam's bakery, she recommends Kitty's Kits bread-making kits, conceived by teenager Kitty Tait. "Everyone, whether they are 5 or 95, can make cheap, nutritious bread," she says. "And if I can take the next step to baking sourdough, so can you."
---
More about nutrition from East Anglia Bylines