Universities are often seen as remote, cut off from, and perhaps parasitic upon, the communities around them. This was never true.
The university is often one of the biggest employers in an area, offering high skilled jobs, and bringing the considerable spending power of its students into the local economy. Many departments have close relationships with local industries, and their staff support a strong local cultural life. So strong local universities can play an important part in the government's levelling up agenda.
Civic agenda undervalued
However, these relationships have often been haphazard, growing up through personal contacts, and with no sense of an overall strategy. And many of the incentives for universities are national or global, and don't pay much attention to the role of the university in its community. High status research is often global, not local, and teaching prioritises young, and often international, students living away from home, rather than local mature students and adults returning in order to requalify.
In 2019 a Commission, headed by Lord Kerslake, published a report on the civic engagement of universities. In response, some 60 universities have formed a national Civic University Network.
University of East Anglia en route to a Civic Charter
In 2020 the University of East Anglia (UEA) became a member of the Civic University Network, and embarked on a journey to create its own Civic Charter.
Fiona Lettice, Pro-Vice Chancellor for Research and Innovation at UEA, is overseeing the development. She said:
"A major drive to create a university in Norwich 60 years ago, was a sense of civic pride. We have always had a vast array of civic activity going on, student placements, sport, choirs, collaborative research, consultancy to local businesses, and staff serving on local committees and organisations.
The Kerslake report nudged us into developing a positive strategy to get a clearer picture of all this, and actively encourage it.
As a result we are now working towards a Civic Charter, which we hope to publish as part of the 60th anniversary celebrations of the University. This is not just as a piece of paper to sign: it's a journey, to strengthen, and build new, relationships and understand how the University can better contribute to the communities of East Anglia."
Connecting People and Places
One of the first steps was to commission a review of the university's impact on the regional and national economy. This was published as Connecting People and Places. It found that the total economic contribution of the university was £1.04 billion. The university employs over 5,000 people, and its 18,000 students spend £224 million a year in the region.
The report highlighted some examples of civic activity, including the Law Clinic (with 300 clients a year), the Sportspark (open to the public, with nearly 4,000 members), the Science and Literary Festivals, concerts (of all kinds), drama performances and art exhibitions. In the year before the Covid lockdown, the Sainsbury Centre gallery had almost 100,000 visitors. The report also highlighted outreach to schools and colleges designed to raise aspirations and widen participation in higher education.
Consultation in Norfolk and Suffolk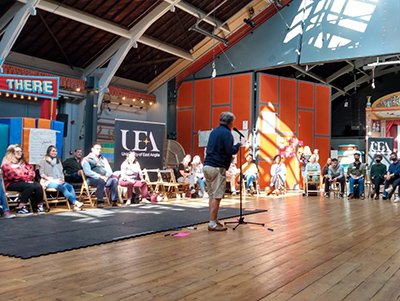 The University is consulting widely about the strategy. This includes a series of events with local community and business groups, students, and staff, to explore what the university might offer to those communities. The first two events, in Norwich and Great Yarmouth, asked participants to identify ways in which the university could contribute to improving life in those communities. They raised issues about civic life, culture and sustainability, diversity, and student involvement in local communities. In conjunction with the University of Suffolk, UEA plans another event in Ipswich later this year and the civic team will be part of UEA's main stand at this year's Royal Norfolk Show in June.
Challenges
There are challenges. Academics are fiercely independent and resistant to being organised. Most are motivated by their reputation among their peers, but they are mainly rewarded on the basis of their teaching and research, which are both measured using national criteria. As a result other activities are often given low, or no status.
The plan is to raise awareness of civic activity among academic staff, to remind them that civic activity can be a way of ensuring the "research impact" which is now recognised in the national research criteria. The university also hopes to add civic activity formally to promotion criteria, so those who choose to focus on this will be rewarded. Some staff will continue to focus exclusively on teaching or research, but all will be encouraged, and some will choose, to take on more civic activity. The strategy will be to identify barriers one at a time, and try to dismantle them.
As Professor Lettice said:
"The University is already a major contributor to the economy, cultural and civic life of the region. This programme aims to strengthen that contribution, and to work with our multitude of partners and friends to honour the aspirations of our founders."
---
More from East Anglia Bylines